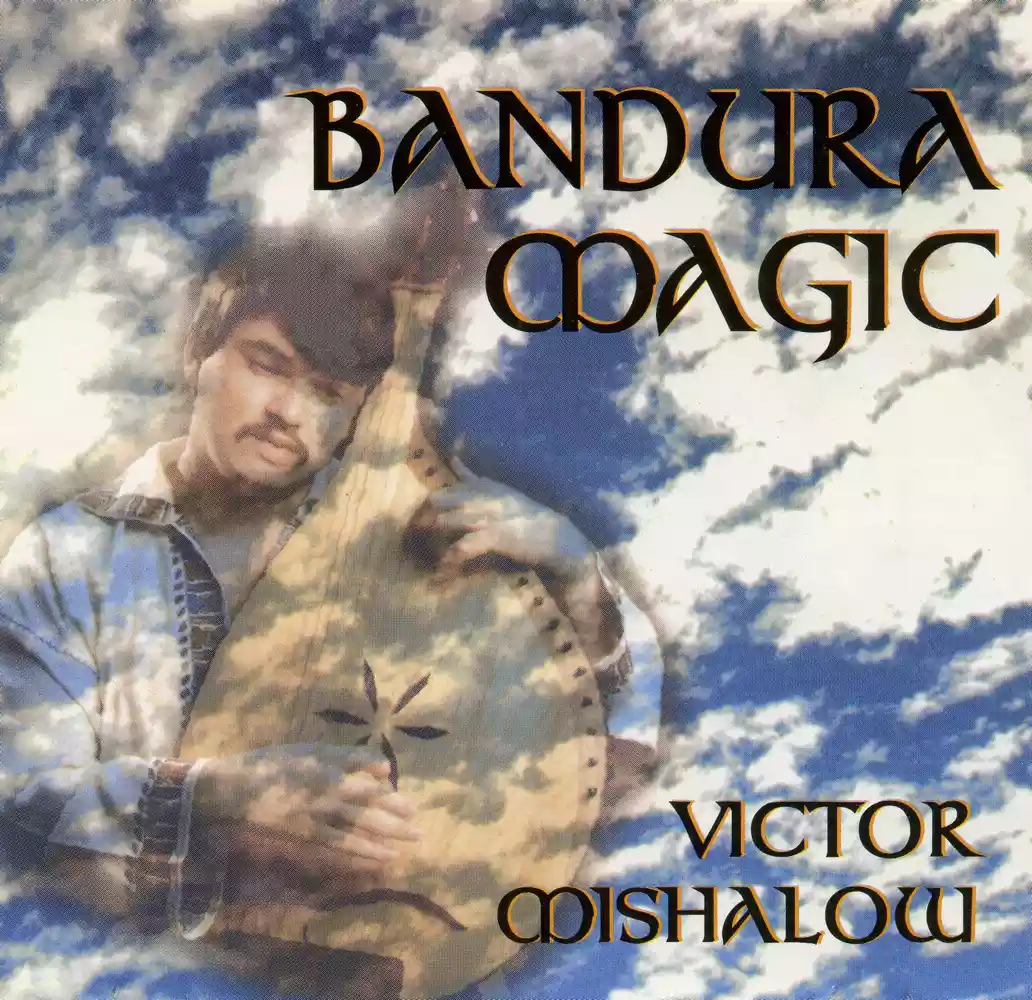 Victor Mishalow – Bandura Magic
Виконавець: Віктор Мішалов / Victor Mishalow
Альбом: Bandura Magic / Зачарована Бандура
Видавець: Yevshan Records – CDYFP 1153
Формат: Альбом, CD-Audio
Дата видання: 1997
Джерело: колекція ukrmusic.online
01
Crimean fantasy / Кримська фантазія
music: V.Mishalow, based on a 2-bar Tartar theme from Crimea
02
Metelytsia / Метелиця
ukrainian folk dance, based on an arrangement by bandurist Hnat Khotkevych
03
Yes, my darling Daughter / Ой не ходи Гоицю
arr. V.Mishalow, variations on a ukrainian song «Do not go Gregory»
04
The lonely shepherd / Вівчарик
music J.Last
05
Bachelor's dance / Парубоцький танець
arr. V.Mishalow, ukrainian folk song based on the melody «Oj Dzhyhune»
06
Echo of the steppes / Гомін степів
music: Hryhory Kytasty
07
Hayduk / Гайдук
arr. V.Mishalow
08
Canon in D / Канон у Ре
music: J.Pachelbel
09
Kokhanochka / Коханочка
arr. V.Mishalow, medley based on Ukrainian folk themes from the repertoire of kobzar Ostap Veresai
10
End of Pontkallek – Marv Pontkalleg / Кінець Понкалега
breton folk theme based on an arrangement by Denise Megevand
11
Hopak / Гопак
ukrainian folk dance, arr. V.Mishalow
12
Ornament / Орнамент
music: V.Kikta, first movement from the harp concerto «Frescoes of St. Sophia»
A number of years have passed since Victor Mishalow's last solo recording. Since then, many changes have taken place in the music world. This recording aims to capture new and different aspects of the bandura. Novel techniques are exploited, and different types of banduras are used. Melodically, although most of the material is based on traditional Ukrainian sources from the old Kobzar repertoire, some selections transcend into the modern. There is reference to current trends in world music, as well as new age, pop and even show tunes.
The following banduras are utilized: Lviv concert bandura (1988), Kharkiv-style bandura made by W. Vetzal (Canada), Kyiv-Kharkiv concert bandura made by I. Skliar (1967), Chernihiv concert bandura with nylon damping system made by I. Kezlia (1981), Chernihiv concert bandura with nylon strings and a Vetzal soundboard (1992), Kharkiv-style bandura made by Y. Pryjmak, Germany (1946) and renovated by W. Vetzal.
Bandurist Victor Mishalow was born in Sydney, Australia, and now resides in Toronto, Canada. He completed his music studies in Australia and Ukraine, specializing in Ukrainian music, language and education. He has numerous recordings, books and articles on various aspects of Ukrainian music to his credit, and has toured and performed frequently in the major centers of Australia, North America and Europe, including Ukraine.
Arranged by: Victor Mishalow and Konstantine Ossaulenko
Recorded in Toronto, July, 1997
Engineer: Konstantine Ossaulenko
Special thanks to: Paul and Adele, Volodya and Romana, Roman Renkniv, and Mykola Sirenko
© 1997 Victor Mishalow
ALL RIGHTS RESERVED – MADE & PRINTED IN CANADA Manufactured & distributed by Yevshan Corporation Box 325, Beaconsfield, Quebec, Canada H9W 5T8