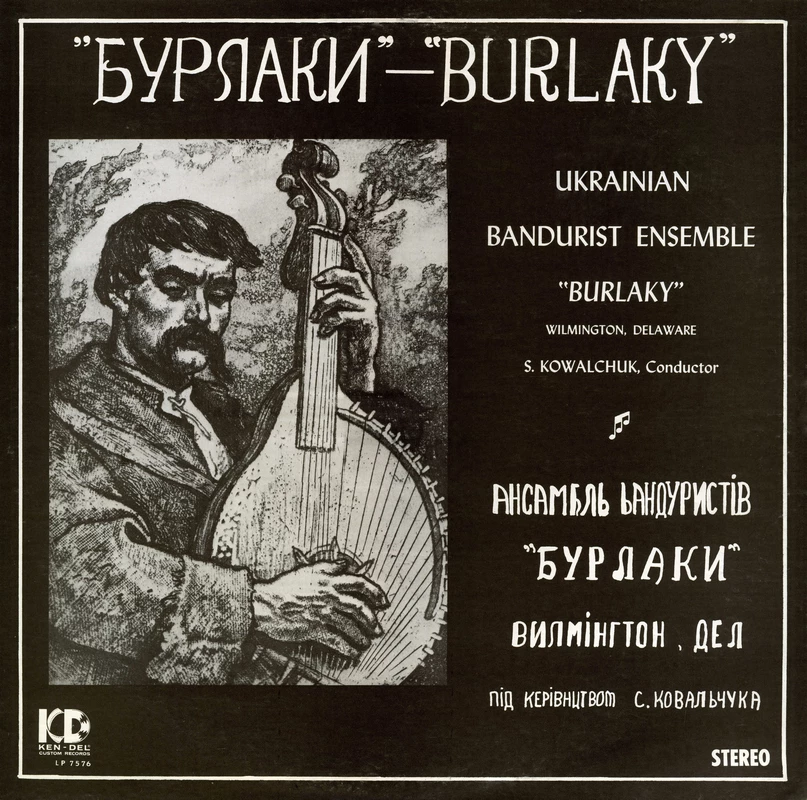 Burlaky / Бурлаки
Виконавець: Ukrainian bandurist ensemble «Burlaky» / Ансамбль бандуристів «Бурлаки»
Альбом: Burlaky / Бурлаки (назва умовна)
Видавець: Ken-Del custom records – LP 7575
Формат: Альбом, Vinyl, 12″, 33 ⅓ RPM
Дата видання: не зазначено (~ 1980)
Джерело: колекція ukrmusic.online
Сторона 1
01
Silent night / Tyha nich
F.Gruber
02
Christ the savior / Hristos Spasytel
аrr. A.Richyns'ky
03
On the Jordan River / Na Yordanskiy Richtzi
arr. K.Stetzenko
04
Let's sing together / Wsi razom
arr. Y.Yatsynevych
05
The new joy / Nowa radist
arr. S.Kowalchuk
06
O master, master / Oy, pane, pane
arr. O.Koshyts'
Сторона 2
07
In the green holt / W zelenim haiu
folk song / nar. pisnia
08
Embroider me a shirt / Wysziy, wysziy
M.Pyrozhenko & H.Kytasty
09
The cossack's lament / Wstaye hmara
T.Shevchenko & V.Yemets
10
Oh, beyond the Danube / Tam za Dunayem
folk song / nar. pisnia
11
A flirting song / Iszow kozak
folk song / nar. pisnia
12
The storm is raging / Wiye bura
Y.Hordiy
13
Through the villages we march / Kriz sela
W.Was'kiv
THE BANDURIST ENSEMBLE consists of twelve male vocalists augmented by the beautiful harp-lute sound of the bandura. This Ukrainian national instrument has fifty-six strings and is played with both hands. The bandura was developed in the sixteenth century.
Mr. Sevihy Kowalchuk, the director of the ensemble, is a graduate of the Luzk Music School of the Ukraine, 1912. Since making his home in America in 1950, he has appeared in numerous television productions. In 1950 alone, his New York choir and ensemble was aired for three months running on UGZ-TY.
Since 1951, Mr. Kowalchuk has been the director of music at the St. Peter and Paul Ukrainian Orthodox Church in Wilmington, Delaware.
Having directed more than fifty concerts in four cast coast states, Mr. Kowalchuk continues to share his musical ability with those of us who appreciate his unique blending of voices and strings.
Produced and Manufactured by KEN-DEL PRODUCTIONS INC., Custom Record Division
111 Valley Road, Richardson Park, Wilmington, Delaware 19804. (302) 655-7488