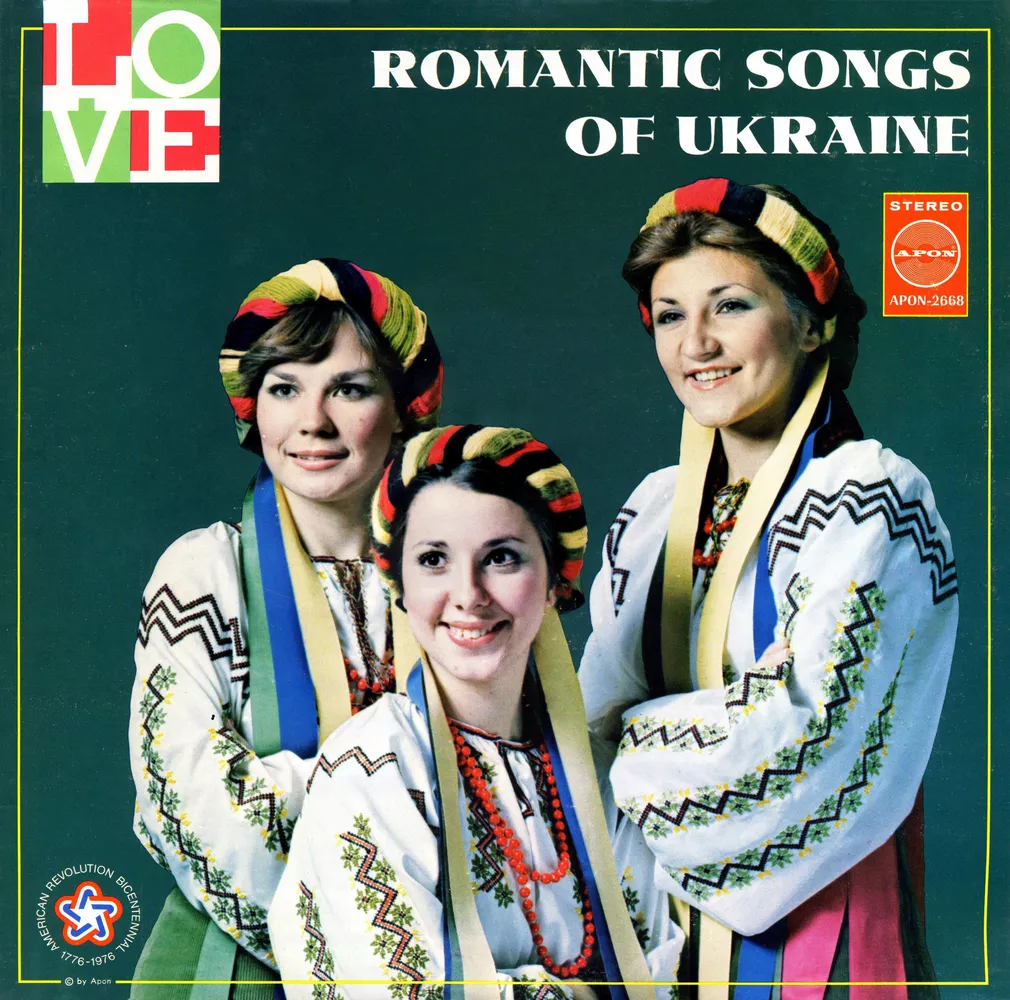 Michael Boyko, Vodohray Singers with the Ukes Orchestra – ROMANTIC SONGS OF UKRAINE
Виконавець: Michael Boyko, Vodohray Singers with the Ukes Orchestra
Альбом: ROMANTIC SONGS OF UKRAINE. Sung by Michael Boyko and Vodohray Singers with the Ukes Orchestra
Видавець: Apon Record – APON 2668
Формат: Збірка, Vinyl, 12″, 33 ⅓ RPM
Дата видання: не зазначено (~ 1978)
Джерело: колекція ukrmusic.online
Сторона 1
01
BULO NETUZHYTY / Do not fall in Love
• Було не тужити
02
ZOZULENKA / The Cuckoo
• Зозуленька
03
TCHEREMSHYNA / Song about Cherry Tree
• Черемшина
04
SYNU KATCHKY LETYAT / Ducks are leaving
• Сину, качки летять
05
OI LETILY HUSONKY / Flying Geese
• Ой, летіли гусоньки
06
TYKHO NAD RITCHKOYU / Stillness over the River
• Тихо над річкою
Сторона 2
07
RUSHNYTCHOK / Ballad to Mother
• Рушничок
08
OTCHI SYNYI / Blue Eyes
• Очі сині
09
LETY TUZHLYVA PISNE / My favorite Song
• Лети тужлива пісне
10
STUKNULA OSIN / Early Autumn
• Стукала осінь
11
NESHUMY KALYNONKO / Don't rustle Guelder Rose
• Не шуми, калинонько
12
V POLYNYNI / Song of the Valley
• В полонині
The Ukes Orchestra: Nicholay Pietrowski – Violin • Victor Kyrychok – Accordion • Bohdan Chodan – Bass and Electric Guitar • Myroslav Mytko – Drums • Berndth Kanduth, Hania Pankiw – Acoustic Guitar • Joe Christi, Jr. – Flute
The Ukes Orchestra
No small part of The Ukes Orchestra vast popularity is due to their ability to play and sing any song – and any kind of song – and make it sound better than it has ever sounded before. Whether it is a folk song from Ukraine, a favorite from the charts, a fine old classic or the newest popular number. The Ukes sound warms it with their own great personal charm.
None of the Ukes songs have greater appeal than their sentimental songs of country origin, sung & played the Ukes way The beauty of a country song lies in its simplicity in melody and lyrics. The Ukes Orchestra have the big voices of Michael Boyko and Vodohraj singers, and the good sound to sing and play a country song as it should be sung. With completely relaxed unforced sincerity, a sincerity that makes of its message a universal expression of love, or longing, or loneliness for your own country – Ukraine. This album features The Ukes favorite songs, their sentimental tribute to the beauty of Ukraine and Ukrainians all over the world.
Cover Photo: Vodohray Singers – Halyna Harmatiuk, Hania Pankiw, Lydia Shewchuk.
Arrangements: Nicholay Pietrowski, Victor Kyrychok.
Cover Design and Printing: Apon Record Company
Photo: Irene Photo Studio
© by Apon
BICENTENNIAL ERA 1776-1976
APON RECORD COMPANY, Inc. • P.O. Box 3082 Steinway Station, Long Island City, N.Y. 11103 Made in USA.
All rights of copying broadcasting or public performances are reserved.5