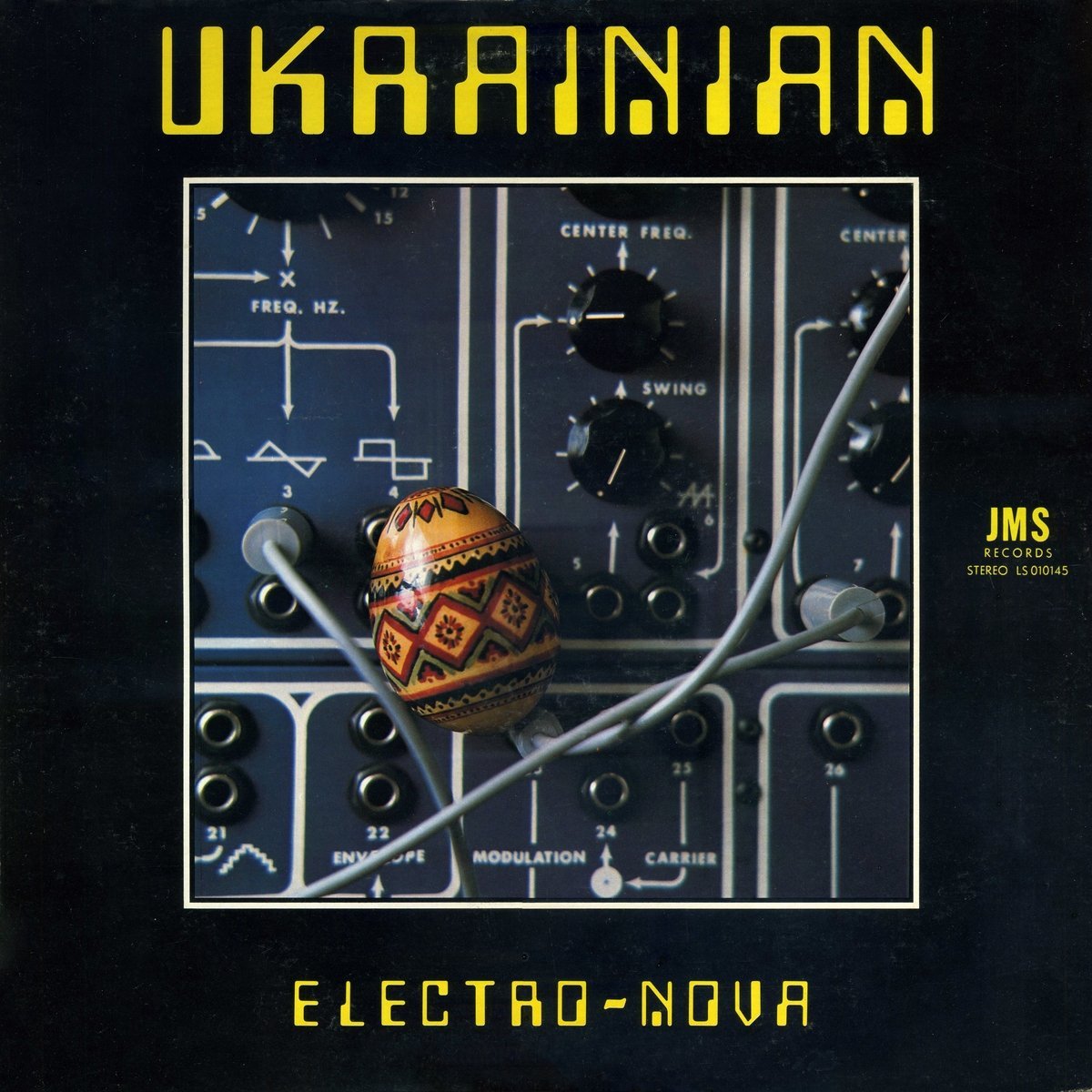 Electro-Nova – Ukrainian
Виконавець: ElectroNova (Electro-Nova)
Альбом: Ukrainian
Видавець: JMS Records – LS 010145
Формат: Vinyl, 12″, 33 ⅓ RPM
Дата видання: 1975
Джерело: колекція та оцифрування Andriy Vasylyk
| | |
| --- | --- |
| | Сторона 1 |
| 01 | The willow |
| 02 | Red ruta flower |
| 03 | By your window |
| 04 | Bashana |
| 05 | Kolomyjka |
| | |
| | Сторона 2 |
| 06 | Two colors |
| 07 | Three suggestions |
| 08 | Neighbors house |
| 19 | Cheremshyna |
| 10 | First love |
Welcome to ElectroNova, the first electronic Ukrainian album of its kind.

ElectroNova not only introduces four new Ukrainian songs, The Willow, By Your Window, Three Suggestions, First Love, currently popular in the Ukraine, reinterprets such Ukrainian standards as Red Ruta Flower, Two Colors, Cheremshyna and includes Bashana an international favorite, but it challenges the conventional ethnic sound.

ElectroNova stresses thoroughly modern instrumental, rhythmical and tonal variety. Vocals often complement the songs, but most apparent is the expert use of synthesizers, undoubtedly the greatest musical invention of the decade.

ElectroNova is a progressive venture; its creators Marko Sydorak and Myroslav Mahmet have boldly implemented their musical vision. It is a modern sound created by Ukrainians in an attempt to merge tradition with progress: to deny it we deny creativity and identity both as Ukrainians and individuals.
Credits:
Synthesizer, Clavinet, Organ – MARKO SYDORAK
Acoustic/Electric Guitar – MYROSLAV MAHMET
Electric Guitar Leads – MARCELO MILAN
Drums/Percussion – GARY NAGEL, CALVIN CURTIS
Vocals – EUGENE KOTLARCHUK, GEORGE KUZYNA, VALA NALYVAJKO
Arranged and Produced by Marko Sydorak
Assoc. Prod.: IHOR LABENSKYJ
Synthesizer Programming: M. SYDORAK
Engineering / Mixing: M. SYDORAK
Mastering: DAVE HANCOCK
Photography / Cover Design: PETER KANE
Recorded at JMS Sound – Fresh Meadows, N.Y.
Printing & Albums by MacMurray Press, Inc., N.Y.