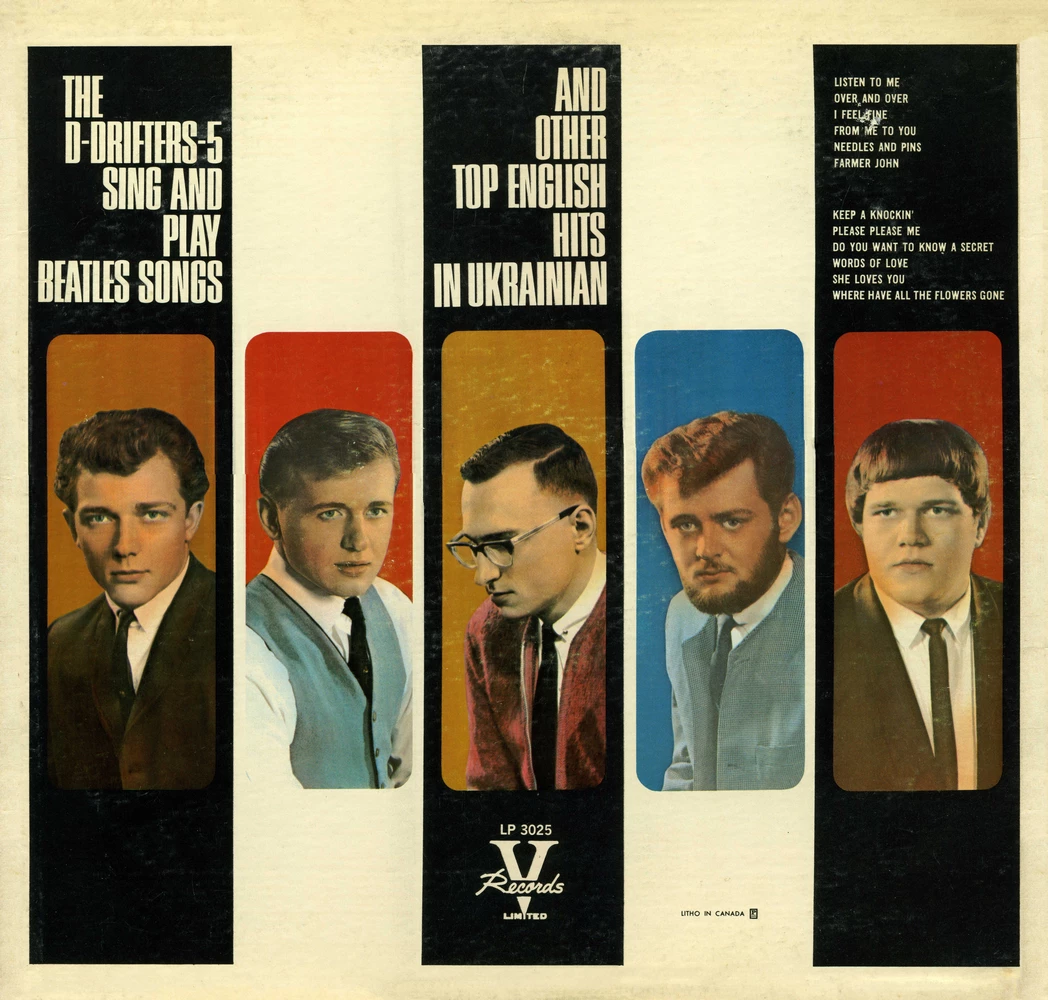 The D-Drifters-5 sing and play Beatles songs…
Виконавець: D-Drifters-5
Альбом: The D-Drifters-5 sing and play Beatles songs and other top english hits in ukrainian
Видавець: V-Records – VLP 3025
Формат: Vinyl, 12″, 33 ⅓ RPM
Дата видання: не зазначено (~ 1965)
Джерело: колекція ukrmusic.online
| | |
| --- | --- |
| | Сторона 1 |
| 01 | LISTEN TO ME |
| 02 | OVER AND OVER |
| 03 | I FEEL FINE |
| 04 | FROM ME TO YOU |
| 05 | NEEDLES AND PINS |
| 06 | FARMER JOHN |
| | |
| | Сторона 2 |
| 07 | KEEP A KNOCKIN' |
| 08 | PLEASE PLEASE ME |
| 09 | DO YOU WANT TO KNOW A SECRET |
| 10 | WORDS OF LOVE |
| 11 | SHE LOVES YOU |
| 12 | WHERE HAVE ALL THE FLOWERS GONE |
D-DRIFTERS-5 – SING AND PLAY BEATLE SONGS AND OTHER TOP ENGLISH HITS IN UKRAINIAN
For many years Ukrainian music, songs and dances have been enjoyed by people of Ukrainian origin in many parts of the globe. Their traditional folk songs, their ballads and their outstanding comedy songs, have been played, sung and recorded by many artists — But Never — in the style of the D-Drifters-5. As in their other albums, the D-Drifters-5 have added a brand new style of music and song to the great dimensions of Ukrainian music.
This album has added greatly to the heritage of Ukrainian music. Songs and beats of the current young generation have been translated into many languages — but never into Ukrainian — never — that is — until now. Rock and roll sounds of the Beatles, the Searchers, the Dave Clark Five and others have been included in this album.
The treatment of these modern sounds is absolutely fantastic. The music and beat are identical to the originals but the words are in Ukrainian. In some cases English lyrics have been partially retained.
The tempo in this album varies from slow to frantic — the moods from sentimental to other extremes — the music from soft to hard driving rock, and as for enjoyment!!! No Ukrainian music has ever been received more enthusiastically by young and old alike — than these brand new sounds — whether in Canada or the U.S.A. With this album history has been made and another milestone has been passed by the Ukrainian people.
You will certainly enjoy this album, in no lesser degree than any other album that you may have ever listened to.
We have done our best with the translations and songs on this album and we hope that you will get as much enjoyment from listening to them as we did from recording them.
"OTHER RECOMMENDED ALBUMS"
LP 3006 – D-DRIFTERS-5 ON TOUR
LP 3017 – D-DRIFTERS-5 SING AND PLAY AT A UKRAINIAN CONCERT
LP 3029 – D-DRIFTERS-5 PLAY UKRAINIAN DANCE FAVOURITES
Manufactured and distributed by: V RECORDS LTD., 15 FLEURY PLACE, WINNIPEG 6, MANITOBA